Australian Labradoodle Puppies for Sale
Here at Montana Haven, all of our Australian Labradoodle puppies are chosen according to the order of when we receive deposits. Contact us, and let us know if you are looking for a male or female and what colors you would prefer and we'll do our best to let you know when one may become available! Should we wish to retain any puppy for our breeding program, we do so at 6 -7 weeks of age. If you don't live in the northwest, don't worry, we can get your puppy to you!
Available now – Born Jan 22, 2021
Cinnamon, who is from Moose and Autumn is looking for his furever home. We kept him back as a future part of our breeding program but have since decided to make him available to you. He is a beautiful Carmel color with a liver nose and white on his chest. He is super loving and loves children and adults alike.
Contact us today to reserve him! 
Puppy Gallery
Click Image to Expand Gallery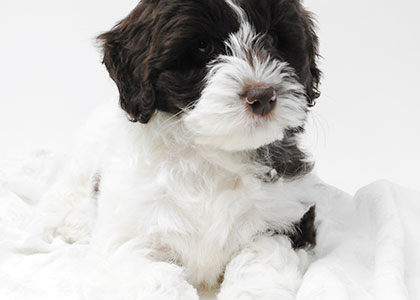 About Puppy Adoption
At Montana Haven Labradoodles, or goal is to provide great families with a wonderful new family member, not "sell" you a puppy. We strive to match puppies with owners based on temperment, activity level and expectations of both puppy and owner.  All of our Labradoodle puppies leave for their new homes with a veterinary examination and all age-appropriate vaccinations. Follow the link below to learn more about the full adoption process or contact us with questions!