Australian Labradoodle Puppies for Sale
Adopting A Puppy
Here at Montana Haven, all of our Australian Labradoodle puppies are chosen according to the order of when we receive deposits. Fill out the application form to let us know what colors and gender you would prefer and we'll do our best to let you know when one may become available! Should we wish to retain any puppy for our breeding program, we do so at 6 -7 weeks of age.
Labradoodle Puppy Delivery Available!
If you don't live in the northwest, don't worry, we can get your puppy to you! We will discuss puppy delivery options and pricing when you apply for a puppy.
Twilight's Puppies Now Available!
New Puppies – 4 girls 2 boys! Born November 2, 2022
Moose and Twilight have produced 6 beautiful babies! Born on November 2, these puppies are growing so fast. 2 of the girls are apricot parti and 2 are caramel with white markings. The boys are both apricot parti. 
Most of these are already spoken for, but please contact us if you wish to make one of these babies your own. They will be ready to go to their new families on December 28. Contact us today before it's to late!
Puppy Gallery
Click Image to Expand Gallery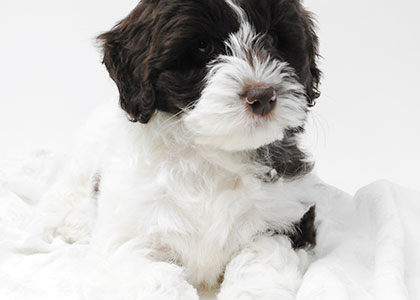 About Puppy Adoption       

At Montana Haven Labradoodles, our goal is to provide great families with a wonderful new family member, not "sell" you a puppy. We strive to match puppies with owners based on temperament, activity level and expectations of both puppy and owner.  All of our Labradoodle puppies leave for their new homes with a health

guarantee,

  microchipped, and all age-appropriate vaccinations. Apply for a puppy below or contact us with questions!