Labradoodle Puppy Adoption
Thank you for inquiring about our puppies!
Puppies from Montana Haven Labradoodles are bred to achieve the highest quality and temperament we can find. Both the males and females from this unique breed exhibit very similar qualities and temperaments. With all the considerations involving puppy adoption, we strive to match puppies with the families and their needs matching activity levels, temperaments and distinct expectations of the puppy and family.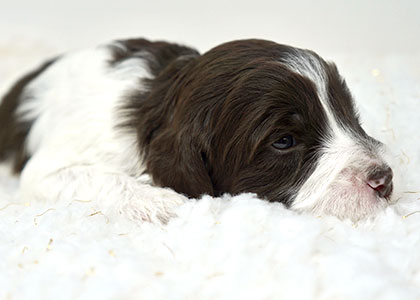 Extensive Testing
Our breeding dogs go through extensive (and expensive) testing. We test our dogs to the standards of the Worldwide Australian Labradoodle Association (WALA). We test for multiple reasons including the need to validate that our breeding stock is clear of specific genetic defects. Our priority is to make sure that we are sending you the strongest and healthiest puppies that you can find! We back up our puppies with an up to 3 year health guarantee with our puppy contract.
Getting Your Puppy Home
We have shipped puppies all over the United States and Canada. Should you want us to ship your puppy by airline, there will be an additional minimum fee of $300, which covers the costs to most destinations. Shipping puppies is quite safe and we have never had to replace a puppy or use the provided insurance. We do our best to find the most direct flights to your location. We provide a vet check and health certificate before the puppy leaves, and ask that you take your puppy in for a well-puppy checkup with your vet within 72 hours of receiving him or her.
Should you want to pick your puppy up at our home, you are welcome to. There is also the option for us to deliver the puppy to you as well as meeting you at our closest airport. Please let us know what would work the best for you and we will let you know the cost based on distance.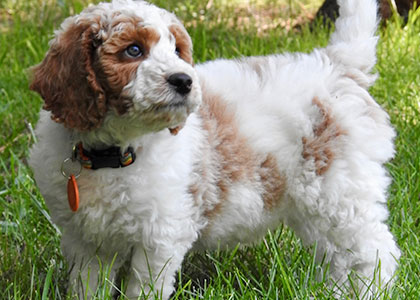 Get Started Adopting A Puppy From Montana Haven
Please fill out our Puppy Application Form so we are able to look for the puppy that best fits your needs.
We will ask for a $50 Nonrefundable deposit to reserve your spot in line. 

Our standard price is $2250, but we may have reduced prices depending on availability. Just ask!

Our puppies leave for their forevermore homes intact with a contract requiring a spay/neuter to be done by 12 months of age.
We will provide a vaccination record and your puppy will be registered with the WALA with a 3-5 generation pedigree.
Montana Haven Labradoodles will provide a signed contract which includes an up to 3 year health guarantee. This contract protects you, Montana Haven and most importantly the puppy!
We are committed to providing you with the best support for your new doodle puppy!
Click the button below to securely pay a puppy deposit fee to Montana Haven Labradoodles with a credit or debit card.
* Make sure you have talked with us before paying a deposit. If you want to contact us click here.